Alkaline Achiote Vegetables: Cooking With Crush
Let's prepare this recipe for Alkaline Achiote Vegetables. This recipe is delicious, fulfilling and takes just over 30 minutes to prepare. Give these flavorful vegetables the recognition they deserve.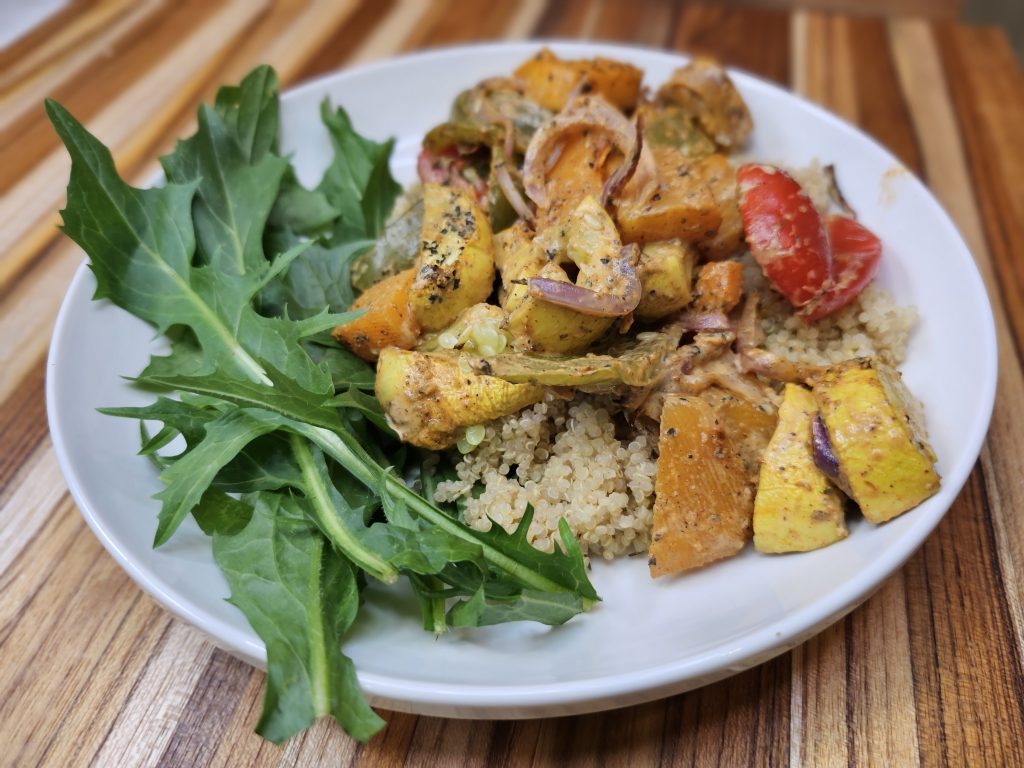 Ingredients:
1/2 butternut squash, peeled, seeded, and cubed
1 summer squash, cubed
1/2 large red onion
3 medium, green burro bananas, peeled and cut
1 green bell pepper cut
2 plum tomato, halved, seeds removed
1 plum tomato cut into quarters, seeds left in
1 tablespoons achiote/annato seeds
1 tablespoon Crush Foster Caribbean Seasoning
2 key limes juiced
1 tablespoon chickweed herb
1 tablespoon dried nettle leaf
2 teaspoons sea salt
1 tablespoon avocado oil
4 cups cooked quinoa (for serving)
Instructions:
In a large mixing bowl, combine the cubed butternut squash, tomato, onion, summer squash, green pepper and green burro bananas.
In a small blender cup, add 1 tomato cut, Crush Foster Caribbean Seasoning, dried nettle leaf, chickweed herb, key lime juice, achiote seeds, salt and avocado oil and blend smooth.
Pour the blended mixture over the vegetables and toss to ensure they are well coated with the alkaline spices.
Preheat the oven to 400°F (200°C).
Transfer the seasoned vegetables to a baking sheet and spread them out in a single layer.
Roast the vegetables in the preheated oven for about 25-30 minutes or until they are tender and slightly caramelized, stirring once or twice during cooking.
While the vegetables are roasting, prepare the fluffy quinoa according to Cooking With Crush
Once the vegetables are cooked, remove them from the oven and let them cool slightly.
Toss with Crush Foster's Roasted Red Pepper Aquafaba dressing.
Serve the Alkaline Achiote Vegetables over a bed of cooked quinoa, and optionally sprinkle with additional nettle leaf for added mineral value.
This recipe serves approximately 4 people, but you can easily adjust the quantities to make a larger or smaller batch based on your needs.
Key Takeaway:
This Alkaline Achiote Vegetable dish offers a colorful and flavorful combination of seasonal vegetables. The achiote seasoning, Crush Foster Caribbean Seasoning, nettle leaf and chickweed add a delightful twist, while the quinoa provides a nutritious and satisfying base. Enjoy this nourishing meal and download your copy of Food Prep For Healing today!
Frequently Asked Questions: